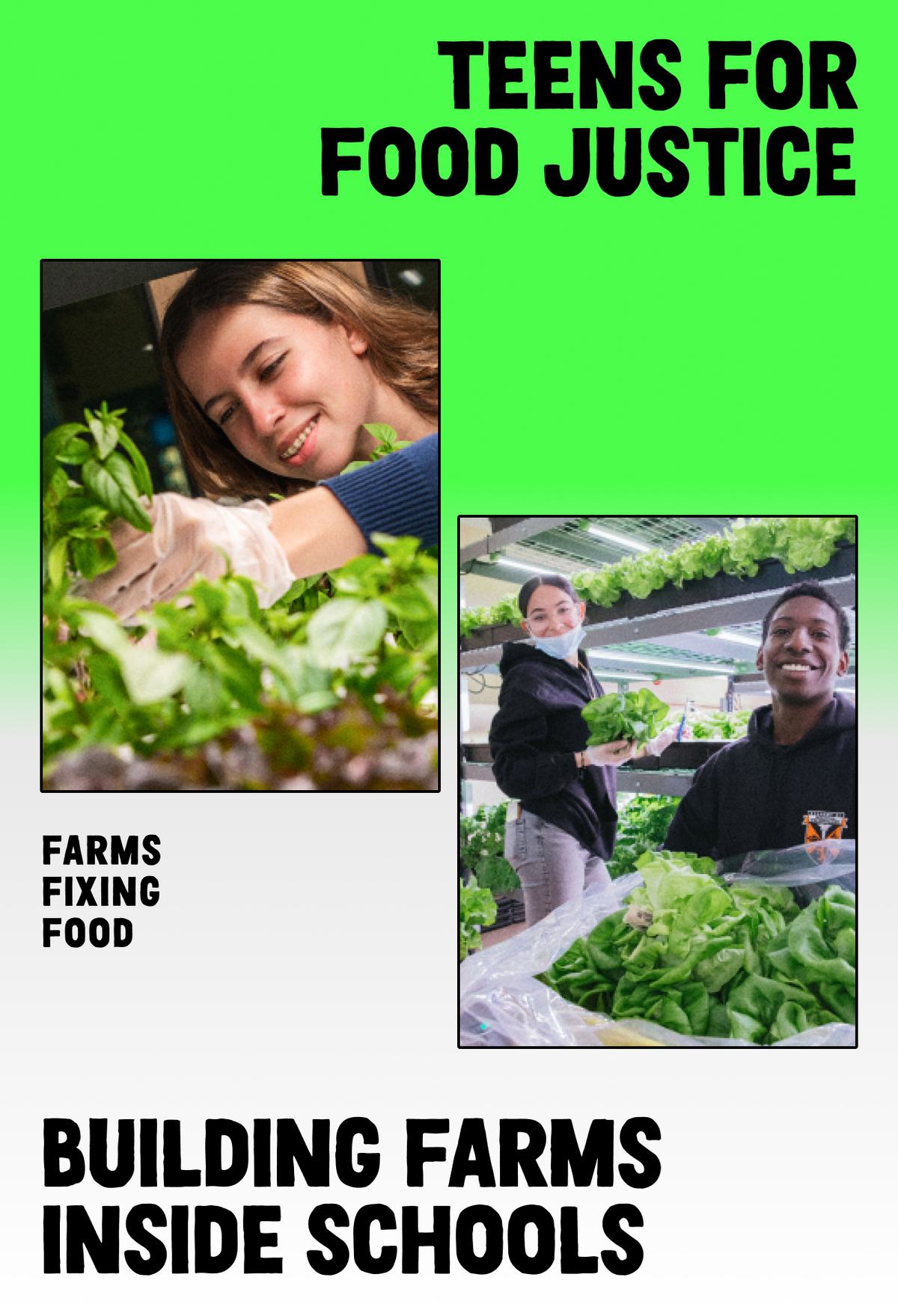 Teens for Food Justice
Teens for Food Justice (TFFJ) is fostering the next generation of food justice leaders, farmers and nutrition experts. They are harnessing the potential of underutilized spaces and transforming them into food production and food access points, saving 70-90% more water than traditional agriculture in the process. By embedding these food production and access points into schools — anchors of our communities — they are offering new models for how our built environments can sustainably support individuals and communities holistically.
TFFJ is fostering the next generation of food justice leaders, farmers, and nutrition experts.
TFFJ operates high-capacity hydroponic farms on five school campuses across four New York City boroughs and in Denver, Colorado. TFFJ students use real-world 21st-century science and technology to grow up to 10,000 pounds (per school) of hydroponic produce annually. Through the program, TFFJ's farmers develop a meaningful solution to food insecurity, transform their relationship with the food they eat, and develop cutting-edge STEM skills needed in a new green sector economy.

of students surveyed understand how nutritious food makes a positive difference in their health.

of participating students see themselves as leaders who can advocate for food justice.

of students surveyed feel the farm increases their understanding of environmental sustainability.


of students go home and share what they have learned with friends and family.


Teens For Food Justice is catalyzing a youth led movement to end food insecurity in one generation through high-capacity, school-based hydroponic farming.
Why This Matters

Food security is directly threatened by climate change. TFFJ is the only organization providing a multilayered and unique approach to STEM, health and nutrition, food justice education, and youth development in schools at a scale that can also feed entire school populations and communities at large.


What You Can Do

Join the fight to end food security now. Provide low-income communities of color with the resources and education needed to combat food scarcity and its negative impacts on health.